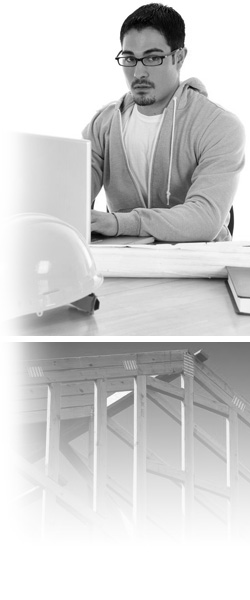 Florida State Certified Roofing Contractor Online Practice Exams
Florida's construction license exams are very difficult.
A good working knowledge of your reference books and general math is necessary in order to pass.
Online Practice Exams from Palm Construction School & Bookstore are an excellent resource
for additional preparation for the Roofing Contractors Exam.
---
Online Practice Exams Now Available
Remember, our exams are PRACTICE and use the same types of questions the state will use on their exams.
---
Practice Exam Details
Each practice exam is pre-set for 3 hours of testing. You will need to set aside at least three hours as you will not be able to return to a saved status. Once completed, your exam will immediately be graded and will be made available for review. The review will show you the correct answers, reference page, and math explanations where needed. You will have one opportunity to review all of the answers and may take as much time as you need, however, the review MUST be done immediately after grading. REMEMBER, when you leave the review you will have no more access to the exam or review.
You should use your reference books to find the answers.
The Florida State Certified Contractors Licensing Exam is an open-book exam
based on the state approved list of reference books.
You can find the state required reference books in our bookstore.
State Booklist for the Florida Roofing Contractor License Exam
---
Information Packet Request Form
Request a complete information packet to be mailed to you that includes some general information and a current booklist.
Florida Plumbing Contractor Licensing Examination Schedule
A list of state exam dates for including application cut-off details.
Online Exam Prep Courses for Roofing Contractors
Information about our available online practice exams.
Classroom Exam Preparation Schedules
Classroom schedules for available exam preparation courses held in Orlando, Florida.
Internet Course Access Form
Already have a confirmation number? Access your Internet Course with this online form.